Power Solutions for the Medical Industry
Product Announcement from Powertronix Corp.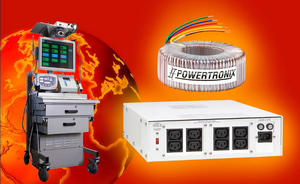 POWERTRONIX provides dependable power solutions/Isolation Transformer/Inductors based on innovative, reliable designs with world wide safety agency approvals.
We work closely with our customers to fully understand their needs and we provide unique, high quality, cost effective products, manufactured in our large ISO 9000 certified manufacturing facilities.
Powertronix low inrush current, isolation transformer has a capability of limiting the inrush current and avoid nuisance tripping without any external components.
This unique design ensures the power system operation reliability. Powertronix has developed and improved low inrush technology to define the inrush level to be in line with circuit breaker transient trip current. Hence, our technology is economical and dependable.
Toroidal Transformer:
Power : 1kVA to 20kVA
Frequency : 47Hz to 63 Hz
Leakage current < 100 μA
Primary : Customer specified
Secondary : Customer specified
Efficiency : 95% to 98.6%
Isolation : 4kVA ( Hi-pot)
Temp rise: Customer specified
Insulation classes: A, B, F, H
Hi-pot : 4000Vrms
Safety : UL60601-1 approved
RoHS : Compliant
Isolation Station:
Power : 300/600/1000/1500/1725VA
Input : 115/230 Vac @ 50/60Hz
Output : 115/230V
Leakage : < 100μA
Voltage Selectable : Yes
RoHS compliance : Yes
Mounting: Floor standing /
Rack mounted
Safety Approval :
-UL listed : UL60601-1
-CE marked
-CB certificate
Do You Know:
Toroidal Transformer has many advantages compare to traditional transformers due to it's inherent construction method, which is favorable for Medical applications:
• Smaller and lighter
• High efficiency
• Wide choice of mounting options
• Lower no load power consumption
• Virtually no audible noise
• Wider choice of configuration
• Ultra low interference due to radial winding
• Low leakage current
Low Inrush Designs
- No external components
- Robust construction
- Resilient to Harmonics
- No Saturation at non linear loads
- Sustainability at poor input voltage quality and missing cycles
---