Laseruler® for Vertical Measuring
Product Announcement from Pratt & Whitney Measurement Systems, Inc.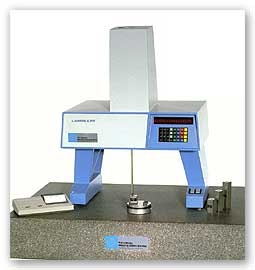 Laseruler® for Vertical Measuring
Your solution for vertical measuring is the Laseruler® which is laser-interferometer-based for very high accuracy. Our exclusive digital interferometer measures the dimension of the specimen by comparing the measurement probe position to the wavelength of a HeNe laser light source, effectively coupling the wavelength of light to the part being measured. Our patented laser path is in-line with the measurement axis to eliminate Abbe offset error. The Laseruler has the advantage of having two instruments in one, a direct reading instrument and it can be used as a gage block comparator. Measure film thickness, ball bearnings, optics, disk thickness, as well as your precision parts with ease.
Features & Benefits of the Laseruler®
Rigid design - For maximum repeatability and reproducibility
Motorized probe - Improves system stability and eliminates operator influence
Digital laser interferometer - Guarantees maximum resolution, traceability, and performance
Two-step calibration - Advanced timesaving feature allows for calibration in only 30 seconds
Automatic cycling - Increases measurement throughput rate when measuring standard gage sets
Flexible anvil fixturing - Ensures system integrity and accommodates a variety of measurement applications
---