Custom Gears, Gear Design, Gear Production, Gears
Service Detail from Precipart Corporation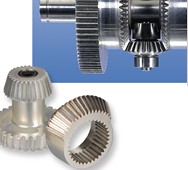 If your gear requirement cannot be satisfied off-the-shelf or from a catalog exactly as you need it, Precipart Corporation is your source for custom gears that are cost-effective.
Our profound knowledge of translating gear requirements into a gear design that meets your needs for operating environments and envelope constraints. We're ISO9001/AS9100/ITAR registered.
Gears: Up to AGMA Q12 or AGMA 2015/ISO Class 5. Materials: Ferrous, non-ferrous and synthetic Sizes: from 0.24" dia (6 mm) to 4.0" (101.66 mm) Pitch: 16 to 200 diametral pitch Types: Bevel, Helical, Ring (Internal), Spur, Worm (single or multiple leads), Worm Gears/Wheels, Anti-backlash.
---