Precision Dedicated Speed Reducers & Increasers
Service Detail from Precipart Corporation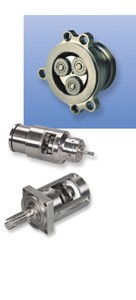 Whether you need to direct the wing flap position of an airplane or control a drill for robotic surgery, Precipart is your source for dedicated speed reducers and speed increasers when your custom application demands precision repeatability and reliability. Our proven capability in engineered solutions in geared motion control provides you with expertise and experience across a broad range of industries. In addition, our profound knowledge of design, materials, manufacturing and testing delivers the high efficiency and dependability you demand. We create solutions that meet your criteria for special environments, product life, and integrated error compensation. This is why Precipart is a leading designer and manufacturer of gear boxes today.
When you need to convert drive output to a dedicated speed and torque requirement, contact Precipart with your specifications.
• Aerospace devices • Medical applications • Surgical tools and drills • Oil field and other industrial applications • Dental applications • Actuators and force feedback devices • Scientific instruments
Gears: Up to AGMA Q12 or AGMA 2015/ISOClass 5). Materials: Ferrous, non-ferrous and synthetic Sizes: from 0.24" dia (6 mm) to 4.0" (101.66 mm), other sizes to be reviewed Pitch: 16 to 200 diametral pitch Types: Bevel, Helical, Planetary, Spur (In-line and Parallel), Worm (single or multiple leads), Anti-backlash.
---