Product Announcement from Precision Automation Co., Inc.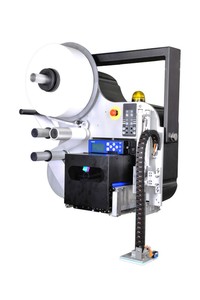 The cost-effective and sustainable solution to the labeling industry!
This revolutionary Print and Apply Labeling unit uses LINERLESS self-adhesive labeling technology that creates self-adhesive, square or rectangular labels that do not require a release liner.
LINERLESS labels are drawn from a self-adhesive continuous band wound over itself, exactly like an adhesive tape, and "cut" to a desired length at the moment of application.

Self-adhesive LINERLESS labels are ideal for all logistical uses, whether they are applied on boxes, bundles or pallets, presenting multiple advantages compared to traditional self-adhesive labels:
The Arca LINERLESS Labeling System is a versatile labeling system, designed for a variety of on demand Print and Apply Labeling applications. The Labeling System features a large 14.17"capacity supply reel, which contains 65% more usable material, than comparable traditional label material. The maximum material width is a wide 5.1". Material roll changeovers are fast and easy, due to the simple single directional web path.
Operator controlled label length allows for the application of different label sizes, without having to change the supply roll. The independent control unit features four L.E.D.'s to signal alarms or machine status, and four soft key to initiate dispensing start, stand by, alarm reset and single manual label application. With 10" per second print speed and a functional real time clock, the Sato Model 8400 Printer is designed to meet your most challenging printing demands.
Advantages of LINERLESS Labeling Systems:
NO LABEL WASTE - With standard label construction, over half of the input material never appears on the package. With LINERLESS there is ZERO LABEL WASTE.
REDUCED RECYCLING COST - By eliminating ever increasing label liner recycling costs. To quote Amy Kovack from Avery Dennison, "It's not like you can simply throw your release liner in a bin and drag it to the curb".
REDUCED FREIGHT COSTS
REDUCED PACKAGING COSTS
REDUCED INVENTORY COSTS
INCREASED UPTIME - Up to 64% more labels per roll
CHANGE LABEL LENGTH WITH A KEYSTROKE - No need to inventory multiple label sizes as the label length can be easily and quickly changed with a "Keystroke"
REDUCED OPERATOR INTERVENTION - Label roll changes are easy and fast due to labeling system's simple single directional web path
IMPROVED SAFETY - Silicone release liners are slippery. Eliminating discarded release liner from the work environment greatly reduces the chance of slip and fall injuries
IMPROVE YOUR "PACKAGING SCORECARD" with large retailers
LINERLESS Print and Apply Systems from Arca Automation are now more affordable than ever! Inquire today to see how you can revolutionize your process!
For more information visit our LINERLESS Webpage.
You have successfully added from to your part list.
---