Rapid Air Vial Dryer for Pharmaceutical Industry
Service Detail from Precision Automation Co., Inc.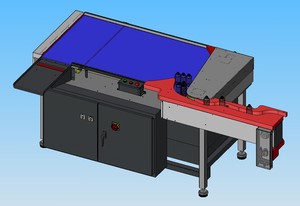 Our Ambient Rapid Air Vial Dryer reduces vial drying time by using an advected evaporative drying system. Vials need to be dried prior to labeling, inspection or packaging, due to the condensation that forms when vials are moved from refrigerated storage into an ambient room.
Typically, vials in trays would take 45 minutes or more for condensation to dry. Our system dries vials in minutes by moving room air past the vial at high velocity to carry away condensation!
As trays of vials are loaded onto the Dryer, they can accumulate and convey out in a continuos single lane of product without operator intervention. 1 ml to 100 ml vials can be dried at speeds up to 600 vials per minute allowing your production to continue smoothly and unaffected.
Be sure to check our video clip below that showcases this system and visit our website below for more information!
See our website for more information on our rapid air vial dryers, request more specific information or Contact Us today!
You have successfully added from to your part list.
You need Flash player 8+ and JavaScript enabled to view the Rapid Air Vial Dryer for Pharmaceutical Industry video.
Get the Latest Flash player.
---