Integrated Conveyor Solutions
Service Detail from Precision Automation Co., Inc.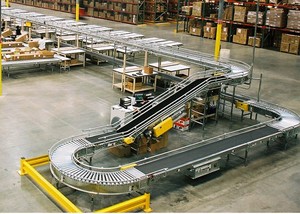 Whether you require Product Handling, or Order Selection and Distribution systems, we will provide a solution that works for you. Customization is our specialty!
Read about our recent accolades in Quality Magazine!
Precision Automation® offers automated solutions for your product-handling needs, from individual conveyors to integrated systems. We are a distributor for several major conveyor manufacturers, which allows us to select the proper equipment to meet your requirements. We provide an integrated solution: the engineering, equipment, controls and installation.
We specialize in a wide variety of products, such as Drums, Pallets, Bottles, Containers and much more. Our approach starts with the investigation and understanding of your needs so the solutions fit, as opposed to trying to make your requirements fit a particular machine or system. The result is an Integrated System that works for you.
We provide:
Engineering & System Design

Conveyor Equipment

Controls

Installation
24 Hour Shipments
Benefits:
Cost Savings - Reduce your labor costs by automating product handling and distribution.
Increased Throughput - Do more with your uptime and increase on time deliveries.
Reduced Operating Costs - Conveyors cost less to own and maintain than an army of workers and forklifts.
Improved Ergonomics - Make your workplace safer for your employees and increase productivity.
Application Engineering - Access to our experienced staff in designing and installing the optimal solution for your unique circumstances.
Reliability - Equipment supplied by nationally recognized conveyor manufacturers.
Get it Fast - Next-day shipments available on many models & styles.
Typical Applications / Equipment:
• Accumulation Conveyors
• Carton Flow Racks
• Case Conveyors
• Carton Handling
• Complete Systems for Distribution Centers
• Drum Handling
• Food Handling
• Hinged Steel Belt
• Horizontal and Vertical Carousels
• In-Motion Weighing
• Lifts
• Pushers
• Mezzanines
• Overhead Powered Chain and Power & Free
• Pallet Handling
• Pallet Storage
• Palletizers
• Paperless Picking
• Vertical and Horizontal Automated Storage and Retrieval Systems
• Sortation Systems
• Scrap Conveyors
• Spiral Conveyors
• Specialty/Engineered Conveyors
• Table-top Chain & Accumulation Tables
• Turntables
• Transfers
• Vertical Conveyors - Continuous and Reciprocating
• Work Stations
• Zero-Pressure Accumulation
Precision Automation has been providing automation solutions for industry since 1946. Our innovative designs optimize product flow and create an efficient system that successfully meet your ever-changing demands. Precision's commitment to quality and service is only surpassed by our longevity and experience.
Contact us today, see our Webpage or call us at (856)-428-7400. We will work with you to provide the perfect material handling solution for your business!
---