Product Announcement from Precision Automation Co., Inc.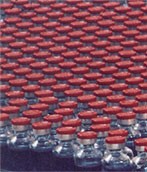 Are you looking to maximize your product handling efficiency and reduce manual labor? Do you have problems with your pharmaceutical line backing up, causing you to shut down or halt production? Our Vial Handling Systems are the solution!
Precision Automation's Thru-flow™ Accumulator is designed to provide continuous flow of product between upstream and downstream equipment. The system operates by conveying vials from the infeed conveyor to the discharge conveyor via the product accumulation belt. Accumulation occurs when product backs up on the discharge conveyor and onto the accumulation belt.
Product can continue to fill the accumulation belt until the infeed conveyor backs up. When the product flow at the discharge resumes, the vials are fed out single file. The combination of the speed differential between the conveyor lanes and the anti-bridging belt separates the product and feeds them out single file automatically. By smoothing your production the need to shutdown is virtually eliminated.
The Thru-Flow™ Accumulator is a non-rotary system designed to reduce abrasion. Capable of handling vial sizes that range from 1 ml to 1000 ml, this First-In First-Out vial flow system is perfect for time sensitive products. These Accumulators have proven to be highly reliable, easily maintained pieces of equipment. And our systems come with a variety of options so they will be tailored to your specific requirements.
We also offer tray loading and vial drying machinery. We will customize a solution for your vial handling requirements!
Be sure to watch our video clip and visit our website for more information on how these systems can improve your process!
Request more specific information tailored to your application here!
Visit our Vial Handling Systems Webpage for more information and additional vial handling solutions or CONTACT US today!
You have successfully added from to your part list.
You need Flash player 8+ and JavaScript enabled to view the Vial Handling Systems for Pharmaceutical Industry video.
Get the Latest Flash player.
---