Vial Handling Systems for Pharmaceutical Industry
Service Detail from Precision Automation Co., Inc.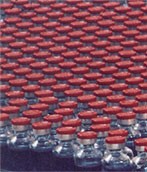 Are you looking to maximize your product handling efficiency and reduce manual labor? Do you have problems with your pharmaceutical line backing up, causing you to shut down or halt production? Our Specialty Vial Handling Systems are the solution!
Read about our recent accolades in Quality Magazine!
Precision Automation's Thru-flow™ Accumulator (See video below)
Designed to provide continuous flow of product between upstream and downstream equipment. The system operates by conveying vials from the infeed conveyor to the discharge conveyor via the product accumulation belt. Accumulation occurs when product backs up on the discharge conveyor and onto the accumulation belt.
Product can continue to fill the accumulation belt until the infeed conveyor backs up. When the product flow at the discharge resumes, the vials are fed out single file. The combination of the speed differential between the conveyor lanes and the anti-bridging belt separates the product and feeds them out single file automatically. By smoothing your production the need to shutdown is virtually eliminated.
The Thru-Flow™ Accumulator is a non-rotary system designed to reduce abrasion. Capable of handling vial sizes that range from 1 ml to 1000 ml, this First-In First-Out vial flow system is perfect for time sensitive products. These Accumulators have proven to be highly reliable, easily maintained pieces of equipment. And our systems come with a variety of options so they will be tailored to your specific requirements.
Ambient Rapid Air Vial Dryer
Our Ambient Rapid Air Vial Dryer reduces vial drying time by using an advected evaporative drying system. Vials need to be dried prior to labeling, inspection or packaging, due to the condensation that forms when vials are moved from refrigerated storage into an ambient room.
Typically, vials in trays would take 45 minutes or more for condensation to dry. Our system dries vials in minutes by moving room air past the vial at high velocity to carry away condensation!
As trays of vials are loaded onto the Dryer, they can accumulate and convey out in a continuos single lane of product without operator intervention. 1 ml to 100 ml vials can be dried at speeds up to 600 vials per minute allowing your production to continue smoothly and unaffected.
Tray Loaders
Our model AT-900 Tray Loader (Video) is a fully automatic Pick & Place System. Vials are accurately counted, transferred into rows and then securely gripped, lifted and placed into the tray. Our Loaders can handle multiple size products with minimal change parts or adjustments allowing changeovers to be completed in less than 5 minutes. An operator friendly control interface enables quick and efficient vial changes.
Our model SC-600 Semi-automatic Tray Loader (Video) features rugged stainless steel construction and reliable operation with only two moving parts. Vials are accurately counted, then transferred into a dual tray receiving station via a timing screw and gate assembly. This allows for continuous product flow on your line.
Be sure to watch our video clip and visit our website for more information on how these systems can improve your process! Let us know what your vial handling requirements are, we specialize in customized solutions for your vial handling requirements!
Request more specific information tailored to your application here!
Visit our Vial Handling Systems Webpage for more information and additional vial handling solutions or CONTACT US today!
You have successfully added from to your part list.
You need Flash player 8+ and JavaScript enabled to view the Vial Handling Systems for Pharmaceutical Industry video.
Get the Latest Flash player.
---