Precision Ceramics Bone Screws to XRay Equipment
Service Detail from Precision Ferrites and Ceramics, Inc. (PFC)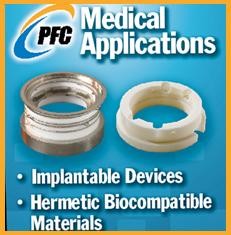 Extensively used in medical ultrasound and diagnostic equipment, our ceramic components are a driving force in our success.
Our superior high drive materials with industry leading electrical and mechanical loss characteristic effectively pave the way for smaller medical tools to be created such as ultrasonic dental descalers and ultrasonic scalpels.
Specialized ultrasonic air in line sensors, including secondary sensing functions (optical & pressure), provide the means for our smallest medical equipment such as infusion pumps to be fashioned. The custom multilayer, bimorph actuator and sensor capabilities we apply are the optimal choice for valve and drug nebulization applications. Assuredly, the potentials of thin film electroding, photolithography, precision dicing and composites make us the perfect fit as suppliers in these fields.
We produce a comprehensive range of specialized ceramic-to-metal brazed assemblies for use in life science and medical instrumentation including the engineering of ceramic orthopedic joint replacements and implantable devices such as pacemakers, cochlear implants, and defibrillators. The flat, high-hardness on the polished surfaces of our materials provide the medical industry with millions of high quality seals each year.
Typical Applications:
• Air In-Line Sensors
• Blood Analysis
• Blood Flow
• Blood flow Sensors
• Blood Separation
• Bone Screws
• Bone Stimulators
• Cataract Removal
• Catheters
• Cochlear Implants
• Consumables
• Diagnostic Equipment
• DNA Testing
• Electronic Implants
• Electrophoresis
• Fetal Heart Monitors
• Heart Pumps
• Instrumentation
• Laparoscopic Surgical Devices
• Medical Imaging
• Nebulization
• Pacemakers
• Prostheses
• RF Ablation Instruments
• Surgical Instruments
• Ultrasonic Scalpels
• X-Ray Equipment
Visit our website via the links on the left - or e mail us with your questions - we welcome your inquiries
You have successfully added from to your part list.
---