Product Announcement from Precision Gasket Company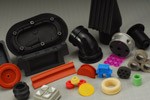 Seal. Fill. Contain.
Seals and gaskets fill the gap between two objects to prevent leakage while under compression. PGC offers a wide variety of gasket and sealing technology to ensure tight closure and protection.
Gaskets and seals help save money by allowing less precise mating surface machining. They're inexpensive, unless they fail. That's why PGC helps develop your knowledge so you end up with the best possible solution for your unique application.
It's technology not taught in schools-the reason the PGC Development Center offers technical seminars on Seals & Gaskets. It's a valuable place to learn, discover and discuss innovative solutions to reduce costs and improve long term performance for your project.
Gaskets are critical elements for all
applications in a wide range of industries:
Mechanical Seals
Engineered Rubber
Electrically Conductive Gaskets
Exhaust Manifold Gaskets
O-Rings
Radial Lip Seals
Flange Gaskets
Connector Gaskets
Take Down/Connector gaskets
High conformability gaskets
Filtration gaskets
Electronic protection gaskets
Rubber gaskets
PGC provides engineered parts solutions to OEM manufacturers that seal, protect, enhance and connect machinery, vehicle components and devices. We engineer success into every build-to-order solution we provide by utilizing dedicated project engineers, the industry's best supply chain and our deep experience in materials, applications and the development process that brings them together with you.
High-quality custom gaskets, seals and o-rings
Molded & extruded plastics and polymers
Die-cut and laser-cut materials as fabricated parts
Special shielding
Composite material and laminated solutions
Our products serve the needs of leading manufacturers in application areas like gaskets and sealing, EMI & RFI shielding, thermal interface management, noise & vibration control, and protection of ruggedized equipment and vehicles.
Solutions:
Solving leaks, interference, noise, vibration, movement and overheating
PGC delivers innovative manufacturing solutions that meet the performance and quality demands of OEMs worldwide.
Dedicated application engineers that help solve problems in manufactured products
Specialized experts for specific capabilities
Clean room technology
Prototype testing lab
Extensive network of knowledge partners-from 3M to start-ups who are advancing new materials and technologies
Harsh environments, unknown use cases, demanding timelines-PGC solves the toughest parts development and supply challenges.
On-time delivery that gets you to market fast
Manufacturing quality, without compromise
Our unique process gives you the edge-as part of a globally competitive supply chain
When you partner with PGC, you align with proactive participants that dig a little deeper and break it down-to discover least total cost, reduce lead times and deliver your project vision.
PGC wants to help you achieve success
Whatever challenge you face with design, cost, reliability or manufacturing, PGC strives to turn your vision into a reality by accelerating the possibilities.
A manufacturing partner of choice-for reasons beyond the parts
PGC offers design, development, engineering-- and a manufacturing facility that delivers millions of parts for a variety of complex applications. Our facility is audited by some of the most respected OEM brands in the industry. But to them, our value lies beyond our manufacturing methods, quality process, lean manufacturing standards, or robust material library.
So many materials, so much information. PGC helps you decide.
If you need help with a part or solution to fit your application, or need to order one of our products from stock, you can count on PGC. We manufacture solutions that meet the performance and quality demands of our regional, national and global customers. Thank you for the reach out. How can we help?
You have successfully added from to your part list.
---