Thermoplastic Extrusions in Construction
Service Detail from Preferred Plastics, Inc.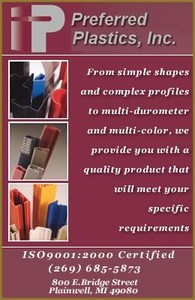 From aesthetic trims, architectural components and gasket seals, the construction industry demands profile extrusions that meet rigorous specifications from materials that meet or exceed application requirements. Preferred Plastics has the knowledge and experience to expertly manage those project conditions with precision designed tools and the in-house quality assurances that the Construction Industry demands.
Our team of skilled professionals will take the time necessary to ensure your concepts are translated into a tool design that surpasses expectation for form and function. We apply our experience to each and every job to ensure it is done accurately, strategically and comprehensively. Our extensive planning and unmatched service saves time and money.
The latest technologies are used to generate production-ready part drawings and state-of-the-art machining processes produce precision dies. Our team is dedicated to assist you any time with practicle solutions on how to make your results the best they can be. We're at your service from initial sketch all the way to the finished product.
ISO 9001:2008 accredited, we proudly maintain a superior level of quality assurance with stringent in-house quality guidelines that exceed industry standards and manufacturing analysis reporting to certify that the specifications you dictate have been met with each run.
Our facilities are equipped with the technology and resources to handle your current projects and future business. We specialize in meeting the unique needs of each customer and can accommodate any conditional demands; from multi-part extrusions, custom colors and special finishes to custom packinging and service requirements. We are proactive and responsive to your goals and work hard to earn your trust. Best of all, we deliver world class custom extruded products on time - every time.
Full processing capabilities including:
•ABS •High Impact Polystyrene (HIPS) •PETG •Polyethylene (HDPE, MDPE, LDPE) •Polypropylene •PPO (Noryl™) •PVC - Rigid & Flexible •TPE (Santoprene™, Sarlink®) •TPO •TPU (Estane®)
Secondary and in-line services including:
•Bar Coding •Cutting •Deburring •Drilling •Labeling •Notching •Post-forming •Printing •Punching •Routing •Stamping •Trimming •Welding
Value added options:
•Tapes •Adhesives •Magnet •Wire •Metal •Fabric •Mesh
For more information about Preferred Plastics as well as the latest news in the plastics industry, visit our web site or follow us on Facebook, Twitter, Google+, LinkedIn, and our Blog!
We would be honored to quote your requirements, contact us today.
You have successfully added from to your part list.
---