Model RBT
Product Announcement from Pro-Line - A Division of RW Hatfield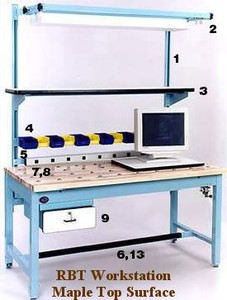 "Pop Up" Ball transfers assist in transfer and positioning of materials in production. Ball transfers raise .250" above surface by activating pneumatic toggle switch. Work in process is then slid on to station. When load is in position , ball transfers are retracted and load is stabilized.
Standard stations require 80 PSI of shop air to operate. Retractable ball transfer stations are available in half or full length coverage of surface. Two ball patterns are available standard 6" x 6" pattern and heavy duty 3" x 6". Modular design allows for mounting of optional accessories.
Stations feature a solid maple surface or an E.S.D. Electro Static Discharge Top. Heavy Duty 2" square tubular legs offer stability and esthetics. Leg extenders allow surface height to be set from 30" to 36."
Ergonomics At Work!
---