Roll Hardness Tester – Parotester 2
Product Announcement from Proceq SA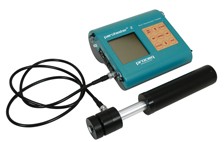 The Parotester 2 roll hardness tester provides accurate and reliable evaluations of the roll hardness, hardness profile and hardness variation of paper, foil and film rolls. With Proceq's roll hardness tester, unevenly wound reels can be spotted prior to interruption of operations and cause of quality problems in printing and converting operations.
By taking Leeb readings across the roll, uneven, too soft or too hard winding can be detected and the roll can be rejected. This minimizes the risk of complications e.g. during the printing process on paper.
Automatic loading and unloading of the impact body by pressing the impact device to the roll as implemented in the Parotester 2 roll hardness tester results in fast and repeatable tests of greater resolution than the commonly used Original Schmidt type L hammer tester.
Features
The Leeb hardness value (HL) immediately indicates the winding tightness. The measurement with the roll hardness tester is objective and precise
The high resolution (1 LU) facilitates comparatively small differences in hardness to be revealed
The large LCD display of the roll hardness tester enables an immediate visual assessment of the values
The unit can be easily programmed for individual user requirements
About 5'000 single measurements can be stored internally. The data can be retrieved via RS 232C for further processing on a PC (use Parolink 3 or Hyperterminal software) or directly printed
Using the external barcode reader (accessory part), roll identifications can be quickly captured and accurately read from the barcode of rolls
The paper roll hardness tester Parotester 2 is robusta and requires little maintenance
Applications
This roll hardness tester is well suited for the paper industry
Foils, films and other plastic sheet materials where a low impact energy is required
Special metal applications (also see metal hardness tester Equotip 3)
Standards
TAPPI T834
You have successfully added from to your part list.
---