Product Announcement from Process Heating Company, Inc.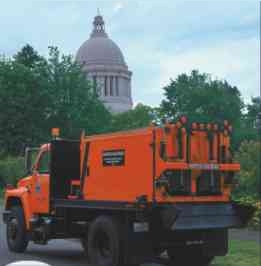 The Patch-King product line has almost 30 years service doing road maintenance and has an impressive record. Reducing crew size, saving on wasted material and providing better road repair all equate to prudent use of resources. The machines can be used for patching with hot mix asphalt, keeping mix hot all day and then storing left over material hot overnight for use the next day. If you use cold mix products for patching, just load the box the night before, set the thermostat and have warm workable cold mix to use the next day.
The Patch-King is available in several models. The PK-30H, PK-40H and PK-80H models are for use in a dump truck and include hydraulic opening rear gates to dispense the asphalt to the pothole or to a shovel apron. The Rotary Discharge version of the Patch-King is available in two models, PK-35HSD or PK-40HSD. The Rotary Discharge will dispense the precise amount of patching material needed directly to the work zone via a discharge chute, eliminating the need for a dump hoist. These models are available as slip in units, or they can be permanently mounted to a truck for year round patching. The model PK-30T, trailer mounted machine completes the product line. This unit has manually operated top loading doors and rear discharge gate. It will carry 4.5 tons of hot or cold mix material and keeps truck free for other uses like sanding.
All units use their exclusive "Lo-Density" patented heating system for smooth, even heat that will not damage the asphalt. They also insulate their boxes better than anyone in the industry to assure you the mix will be hot at the end of a work day without the need of day time heat or burners. With PHCo patchers, you simply plug the all-electric machine into 220Volt power at the end of the day, set the thermostat to the mix temperature and your patching material will be ready to go the next morning. The concept of a portable heated box for asphalt hot mix prevents waste and keeps the pothole repair material ready to make lasting patches.
Also available is the Tac-King companion for emulsion application. These tanks are 120 gallon and two compartments (100 gallons emulsion, and 20 gallons release agent). Heating is done with their "Lo-Density" immersion elements that won't coke up or damage the temperature sensitive emulsion products. Also included is a pumping system and discharge hose with spray wand.
You have successfully added from to your part list.
---