Seal Gauges& Switches For Sanitary Applications
Product Announcement from PMC Engineering LLC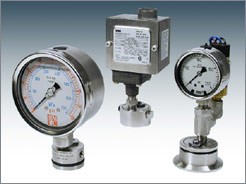 PMC's seal gauges and seal switches SGB/SAN & SGB/SW SAN Series modifies the proven SGB & SGB/SW Series to include a 3A sanitary approved seal at the diaphragm face. The products are specifically designed to address the sanitary needs of the food, chemical, brewery, and pharmaceutical industries.
PMC Seal Gauges and Seal Switches are equipped with proven PMC transmitter that accurately measure pressures in industries where viscous materials are processed. The Remote Gauge Panel System offers the display of pressure readings in an accessible location for ease of monitoring and adjustment.
The design includes a 1½" sensing area and permits the diaphragm to be installed flush with the inside wall of pipes 3" or larger. Henceforth, eliminating the pocketing problems usually encountered with a damper to promote longevity.
Each seal gauge and switch is equipped with a proven PMC transmitter and can be bottom or back connected for greater visibility. The Seal Switches SGB/SW Series include a Nema 4 rated enclosure and adjustable ranges.
You have successfully added from to your part list.
---