Product Announcement from Proportion-Air, Inc.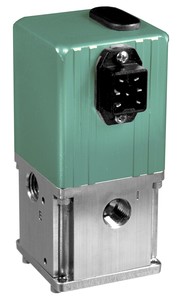 HIGH FLOW HIGH RESOLUTION PRESSURE CONTROL
The QL3 allows high volumes of air to move quickly and precisely at pressures up to 150 psig using proportional solenoid valves with a unique analog PID circuit. Ideal for use with flow meters, it provides high resolution and smooth pressure control at high and low flow rates and avoids the "steps" prevalent in most feed and bleed I/P's. The output is proportional to the electrical input or command signal.
QL3: High Resolution Pressure Control Valve
The QL3 is a closed loop electronic pressure regulator consisting of two solenoid valves, an internal pressure transducer, and an electronic control circuit integrally mounted to a unique volume booster. The output pressure is proportional to an electrical input (command signal).
Pressure ranges - 0-5 psig through 0-150 psig
Output pressure - 0-100% of range
Flow rate - Forward & Exhaust - 25 SCFM max. @120 psig inlet & 100 psig outlet
Hysteresis - 0.05% F.S.
Accuracy - <+/-0.4% F.S.
Resolution - 0.05% F.S.
Command inputs come in a choice of either a 0-10 Vdc or 4-20 mA. The QL3 also provides an electrical monitor signal for output to a panel meter or controller for data acquisition or quality assurance needs.
QL3 - Installation Guide (pdf) (133,37 KB)
**************************************
Proportion-Air Pressure Control Valves
Proportion-Air, Inc. is the pneumatic industry leader in manufacturing electronic air pressure control valves. Whether you need a high pressure regulator for bottled gasses, a low pressure regulator for inches of water column, a precision pressure regulator for lab or medical grade applications, or even an oxygen regulator cleaned and compatible for oxygen service. Proportion-Air has a family of air pressure regulators right for you.
You have successfully added from to your part list.
---