PM60 Series Medical Power Supply
Product Announcement from Protek Power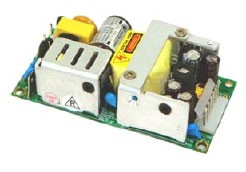 The PM60 series of compact, open PCB constructed, AC-DC
switching power supplies are capable of delivering 37.5-64
watts of continuous output power at convection cooling. They
operate at 90-264 VAC input voltage without the need of
voltage selection, and are suited for medical, information
technology and industrial applications. Approval to both EN
60601-1 and EN 60950-1 safety standards improves design-in
time and reduces end equipment compliance costs.
FEATURES
Medical and Industrial Approvals
Compact size 2" x 4" x 1.18"
Single, dual and triple outputs
Class I and Class II construction
Low Earth Leakage Current
Level B Emissions
RoHS compliant
---