PU202 Series ITE Power Supply
Product Announcement from Protek Power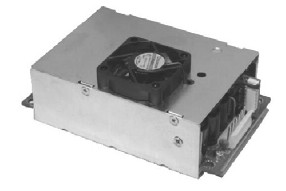 The PU202 series of AC-DC switching power supplies in a
package of 3 x 5 x 1.5 inches are capable of delivering 200
watts of continuous power at 5.3 CFM forced air cooling or
150 watts at convection cooling. The units are constructed on
a printed circuit board with a U-bracket for mechanical support
and heat sinking. A cover-and-fan assembly can be added
during manufacturing for 200 watt output. The units are
certified to IEC /EN /UL /CSA 60950-1 and suitable for data
networking, computer and telecommunication applications.

FEATURES:

3 x 5 inch footprint with 1.5 inch low profile
100-240 VAC input with active PFC
Meet EN55022 and FCC Class B
Power Factor 0.98 typical
Short-circuit protection
Power Fail Detect (PFD) signal
Inhibit - TTL high to disable output
Compliant with RoHS requirements
Efficiency greater than 87%
---