Custom machined and molded parts
Service Detail from Proto Labs, Inc.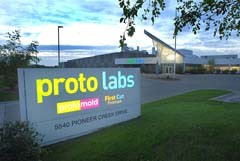 Proto Labs, through its First Cut and Protomold services, utilizes proprietary computing technologies and automated manufacturing systems to provide prototype parts and short-run production services. All parts are made by standard production methods, delivered at affordable prices, and can be delivered in as fast as one day.
First Cut CNC machining service automatically produces toolpaths for state-of-the-art CNC milling equipment and machines 1-10 parts from solid blocks of engineering grade resins and aluminum.
Protomold injection molding service has been delivering injection molded prototype and low-volume production parts since 1999. Plastic injection molded parts are available in a variety of surface finishes at a fraction of traditional injection molding costs.
Submit a 3D CAD model online, anytime day or night, and their 1.9 teraflop compute cluster will go to work, analyzing your design based on best molding and machining practices. Their proprietary software examines your model for potential problems and presents you with results you can use, all web-based and interactive. Thick walls, sharp corners, undercuts, and more are highlighted on detailed 3D illustrations.
You have successfully added from to your part list.
---