Resin Selection Guide for Molding
Service Detail from Proto Labs, Inc.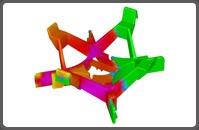 Material Selection

For a general guide to choosing resins for injection molding: see our Resin Selection Guide. For a listing of resins that we keep on hand, go to our Stocked Resins list. To see a list of links to manufacturers, search engines and other resin resources, click on Resin Links, and for resin coloring information: Custom Colors.
Choosing a resin

Selection of the proper material is crucial to part production. Designers should consider the mechanical characteristics, molding properties, and cost of the resin used.

Application-specific requirements will always drive the need for particular material properties like tensile strength, impact resistance or ductility.

Successful designs for injection molded parts are also built on an understanding of process-related issues such as the ability to fill the mold, tendency to flash, ease of part ejection, and the potential for warp, sink or void creation. Part geometry can be used to help address some of these issues, but just as material properties are an important factor in meeting the requirements of a given application, they should also be considered to ensure the moldability of the part.

The links below list some commonly used resins along with their brand names and a high-level summary of their material properties, moldability characteristics and relative costs.

See our Resin information page for the complete list of stocked resins and view our Resin Guide for more information.
Compatibility with Rapid Injection Molding
Generally, any conventionally injection moldable material can be specified. If the material is relatively standard, and we don't have it in stock, there may be an extra charge for us to procure a minimum quantity. Delivery could also be affected if the material is not readily available from the resin distributors. We are happy to work with specific resins you already use and would like to supply to us.

Stocked resin list

See our choosing a resin page for a guide to physical properties of resin types.
Material / Cost

Links to additional resin information The following links may prove useful in selecting resins for your parts. These sites are not maintained by Protomold. The information on these sites is the responsibility of the organizations they belong to.

Property based material search engines:
Resin supplier links:
Availability of custom colors
Colors are available, and quickly if a rough approximation is acceptable. Protomold is not able to do exact color matching.
You have successfully added from to your part list.
---