Filter Assemblies
Product Announcement from Purolator Facet, Inc.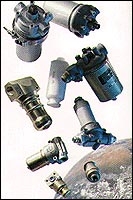 Purolator Facet, Inc. is a creative engineering and manufacturing organization offering a wide diversity of services and products. Purolator Facet manufactures an assortment of standard filter assemblies qualified to many industry and military standards. High and low pressure filter housings approved to the requirements of MS-28720 and AN6234 all meet the filtration requirements of MIL-F-5504. These filters are just some of the industry standard products available. They also specialize in the design and manufacturing of exclusive filter designs for the aerospace industry.
FUEL FILTERS: Fuel filter assemblies are designed to meet your application's most stringent performance requirements. Each filter is designed with the utmost attention paid to performance and reliability. Products include engine or airframe mounted, main or last chance fuel filters.
LUBRICATION OIL FILTERS: Lubrication oil filters are designed to provide the extra-fine filtration and dirt holding capacity required to increase the operating life and reduce operating costs of aircraft transmissions and engines. By removing the contaminants found in these systems, transmission parts and engine bearings will operate more efficiently which equates to safer and extended operating times at reduced cost.
HYDRAULIC OIL FILTERS: Hydraulic oil filters are designed to provide an extra-fine degree of filtration in today's ever increasingly complex hydraulic system. These filters protect all of the components used in these systems from foreign-born contaminants and contaminants generated by normal system operation. Removing these contaminants is crucial to protect the fine clearances found in hydraulic system components. This permits these systems to operate more efficiently and for extended periods of time.
---