GKN® Sinter Metals Filters
Product Announcement from Purolator Facet, Inc.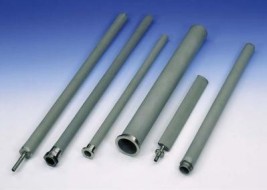 All ingot metallurgical materials can be produced as powder. Shape, size and distribution of the powder particles are selected based on the specifications of the filter to be produced. Besides permeability, grade efficiency and mechanical strength, the corrosion resistance often is of prime importance for the field application.
SIKA-R...IS elements are manufactured in a wide variety of materials depending on the requirement. The most popular materials are stainless steel alloys as well as Titanium, Monel, Inconel, Hastelloy and other special materials
SIKA-R...IS filter elements are produced by cold isostatic pressing. For the compaction process the metal powder is filled into the compacting tool which is made of a solid steel core and oversized outer rubber sleeve. By sealing this assembly and immersing it in a liquid inside a vessel that then is pressurized, a pressed part will be obtained. Most importantly, this part will have uniform porosity with homogeneous, physical characteristics and properties over the total part. This processing method allows the manufacture of seamless filter elements up to 1500 mm length and 320 mm diameter with various wall thicknesses.
Features/Benefits:

The design and manufacturing of SIKA-R-IS and SIKA R-AS result in the following important properties:
Shape-stability, i.e. self-supporting structural elements suitable for high differential pressures and pressure swings.
Particularly good properties under compression, vibration and changing conditions or with high impulse pressures.
High heat resistance and thermal stability up to 1,742 °F.
High permeability with low pressure drop.
Precise filtration because of homogeneous pore size distribution.
Chemical resistance against acids and caustic solutions in various ranges of pH.
Back-flushing and easy cleaning with supersaturated superheated steam, chemical solvents, thermal processes and ultra-sonic baths.
The variety of materials used are weldable, solderable and machinable.
Applications:
Catalyst separation and recovery
Refinery applications
Gas- and Liquid filtration
Aerosol separation
Sparging
Fluidization
Air bearings for polymer sheet production
Silencing
For more information, please click here.
---