The best Screen Available.Poroplate Progressieve™
Product Announcement from Purolator Facet, Inc.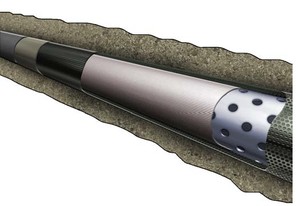 THE BEST SCREEN AVAILABLE
Poroplate Progressieve™ sand control media is manufactured via the same proprietary sintering process as standard Poroplate® screen tube offerings, but employs additional layers of wire mesh to provide extended dirt holding capacity. Each layer of wire mesh is carefully selected based on the particle size distribution or gradient pore screen design that maximizes dirt holding capacity and flow, without compromising sand control filtration capabilities.
The custom orientation of multiple layers of wire cloth creates what can be best described as a series of surface media layers that deliver the dirt holding capacity of a depth media. This unique performance characteristic is made possible because each layer serves a special function of removing a narrowly targeted particle size. This allows each layer of wire cloth to be contaminated only by particles that are larger than its pore size, thereby freeing up subsequent downstream layers to remove progressively finer particles.
STANDARD FEATURES:
Standard 316L stainles steel sintered wire cloth mediea
Other alloys available, e.g. Alloy 20
Rigid, durable media
Fixed pore structure
High permeability media design
Available in micron ratings of 75-400
BENEFITS:
Dramatically improved dirt holding capacity
Very low resistance to flow
No media migration
APPLICATIONS:
Heavy, viscous oils
Unconsolidated sand formations
High fines content
For available sizes, please click here to download PDF.
---