Product Announcement from Purolator Facet, Inc.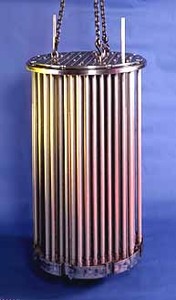 Purolator Facet's Poroplate® septa, Pressure Leaf Filter
Trays, Resin Traps and Baskets are application engineered
and manufactured to optimize your systems, and are tailored
to your specific operating conditions and requirements.
Because of their superior flow distribution, Purolator septa
are designed to extend run times, maximize the use of ion
exchange resins, increase precoat uniformity, and improve
backwash efficiency, with no measurable resin bleed through.
Poroplate® septa precoat uniformly, without
the need for a cellulose precoat. By increasing the
run time between backwashing, and decreasing
the requirement for cellulose precoating, the
radwaste volume is reduced. The result - an
optimized filter demineralizer F/D system.
The exclusive mechanical and metallurgical engineering
capabilities of the Purolator Power Generation Group involve
applying the latest CAD solid modeling and drafting programs.
These, and dedicated filter septa test equipment, are used to
custom design and manufacture septa, meeting the filtration
and strength requirements of the nuclear power generation
industry. The Purolator dedicated septa test equipment allows
testing of full length septa, including visual examination of
precoat and backwash performance under the actual operating
parameters of your plant. These capabilities, coupled with
Purolator's excellent QA/QC program and manufacturing
capability, provide you with septa designed to optimize your
system's performance. For either new installations or direct
replacement retrofitting of Graver, DeLaval or Croll Reynolds
septa, the Purolator Power Generation Group is your resource
for flexible, application-matched filtration solutions.
You have successfully added from to your part list.
---