The PoreRestore™ automatic backwash filter system
Product Announcement from Purolator Facet, Inc.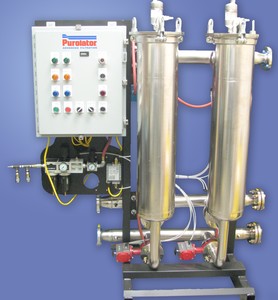 The PoreRestore™ automatic backwash filter system uses standard size 2 Poroplate® filter baskets. Poroplate media is a multi-layer sintered wire cloth media that is in this case configured as a true surface media. This effectively allows all of the debris to be trapped on the outer diameter of the basket where it can be easily removed during the backwash sequence.
Poroplate media has a very high void volume, so the clean pressure drop is much lower than with other metallic filter media. This can reduce the number of filters required, and therefore the cost of the systems.
This system is best suited for liquid applications in the chemical processing, refining, pharmaceutical, water treatment and power generation industries.
To view a flash presentation that shows and explains exactly how this filter works, click here.
To download a brochure, please click here.
---