MIM -Tool Steels & Hard Metals
Product Announcement from Qingdao Eversun Precision Manufacture Co., Ltd.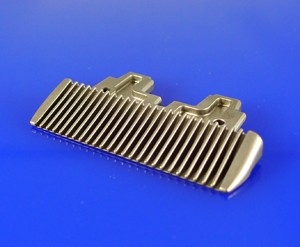 Wear components, often from carbides, tool steels or hardenable stainless steels, stand for a range of critical application fields where high hardness and wear resistance are required, as in defense, aerospace, automotive and cutting tools. Tungsten carbide wears up to 100 times longer than steel in conditions including abrasion, erosion and galling. Wearing properties of carbides are superior to those of tool steels. Tungsten carbide plus cobalt, known as cemented carbides or WC-Co, can provide additional tensile strength and fracture toughness to the parts. Since tungsten-base alloys are normally hard to machine or cast, they are best shaped via MIM process, which can easily achieve highly compex net-shapes and high final densities.
Interestingly, tungsten-copper alloy has nothing to do with wear applications. Due to the high thermal conductivity of copper and the low thermal expansion of tungsten, W-Cu powders are best suited for thermal management components and semiconductor packaging.
Wear resistant tool steel powders in use include M2 (DIN 1.3342), which can be heat treated to extra high hardness (≥64HRC). Nb-modified tool steel 440Nb (DIN 1.4105) provides both good corrosion resistance and high heat-treated hardness (≥61HRC).
You have successfully added from to your part list.
---