Product Announcement from Quabbin Wire & Cable Co., Inc.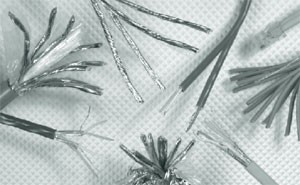 The explosive growth of Internet connections, complex wide area networks, and rapidly increasing data traffic through existing Telco infrastructure is creating huge demand for these cables. They interconnect switching and data transmission equipment, providing low loss and signal distortion combined with excellent shielding isolation.

Telco Digital Signaling Growth

Years ago AT&T developed the "T-carrier" system to make more efficient use of copper cabling. It converts analog voice traffic to multiplexed digital signals within central offices. T-1 transmits 24 voice channels on a single pair of Telco "ABAM" cable. T-3 multiplexing combines 28 T-1 circuits using a low loss coaxial cable.

With the breakup of AT&T, these protocols became ANSI standards, designated DS-1 and DS-3 respectively. E-1 is a European version of T-1, with only slight differences.

The recent increase in LANs, WANs, call centers, fax and Internet traffic created growing applications for these digital protocols within central offices and also at customer premises. T-1, E-1 and T-3 digital signaling is a proven technology, is usually available, and uses existing copper media.

Quabbin Solves Cabling Problems

Most LAN installers or owners are not familiar with T-1 or T-3, so they often use the wrong cabling. Cable density, connector size, EMI isolation, and crosstalk are significant problems. As more circuits are crammed into bridges and routers, older Telco cabling is proving to be too large.

Quabbin's digital Telco cables solve all these problems. They meet the ANSI signaling requirements for bit error rates, EMI shielding, pulse shape, and cabling length.

Manufacturers of T-1 multiplexing equipment and central office switching gear have independently verified this fact. Several who failed the FCC's EMI system test requirements using poorer quality cabling have easily passed using Quabbin's designs.
You have successfully added from to your part list.
---