QUADRANT PLASTICS > METALS
Product Announcement from Quadrant Engineering Plastic Products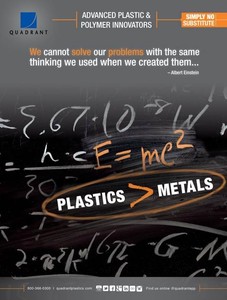 Selecting the right advanced thermoplastic/composite for your application can mean the difference in achieving the benefits and efficiencies in performance that you desire. To ensure success, it is now more important than ever to ensure you're using the right material to meet your application demands. Whether this is load bearing capabilities, extended wear life, temperature extremes, or compliance restrictions; it is important to perfectly match the best material to your needs. The advantages that plastics may offer include longer part life, reduced maintenance, reduced wear on mating parts, less power needed to run equipment, corrosion resistance, and ultimately higher efficiencies of your overall operation.
Quadrant offers a wide variety of materials to meet your needs. Our selection ranges from cast, extruded, compression molded, and even injection molded plastics. Having such a diverse group of material and processing options allows Quadrant to help you recommend the best fit to meet your needs. That wide material offering results in endless success stories for an equally diverse group of markets. Semiconductor, medical, aerospace, construction, chemical processing, and food processing are just a few industries where the right solutions have been utilized. Feel free to reach out and contact our world-class Technical Assistance Team for assistance and material recommendations for your application.
For more on Quadrant EPP -
Visit plasticperspectives.com
Quadrant's technical blog commentary and video library, delivery material data, facility tours, machining tips and much more; all presented by the industry's top engineering plastic experts.
---