Robo-Rocker Electric Device
Product Announcement from Quail Electronics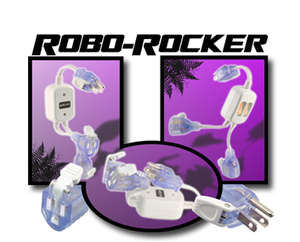 Quail Electronics, Inc.®.'s Robo-Rocker offers a new unique design that will solve lots of problems for your cords.
The Robo-Rocker features some very ingenious characteristics:
- 1 x NEMA 5-15P Plug (Standard US plug) CLEAR with a QUICK RELEASE tab.
- 2 x NEMA 5-15R Receptacle (Standard US receptable) with a QUICK RELEASE tab.
- 1 x DUAL LIGHTED SWITCH JUNCTION.
- 1' long overall length, 6" on each legs.


This new electric buddy will provide easy and quick access to your most used devices. For instance, this is the perfect companion to use for your cell phones chargers at work under your desk.No more tangling of the cords, and no need to try to yank the cords out of the outlets. The easy Quick Release is effortless when it comes to remove the cord from the power source.
---