The PoreMaster GT- Pore Size Analyzer
Product Announcement from Quantachrome Instruments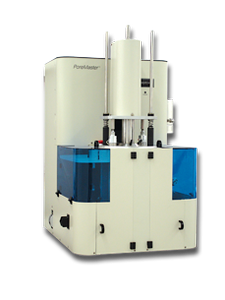 The PoreMaster GT: Fully automated, high-performance mercury intrusion porosimeter includes two high-pressure and two low-pressure analysis ports for Greater Throughput pore size measurements.
Mercury intrusion porosimetry is the technique of choice when it comes to analyzing pores over a wide range of sizes from a few nanometers to hundreds of microns; the sorts of pores one might find in green and fired ceramics, pharmaceutical tablets and granules, osteoporitic bone, well core samples, cement, brick, tile and concrete, even desiccated foods like dry pasta and fruits.
In addition to running two samples simultaneously in the same high-pressure chamber the PoreMaster GT features an automated lift mechanism that raises and lowers the high-pressure cavity closure, automatic hydraulic oil pump and solenoid vent valve for automatic purging of the system, a vapor cold trap on the vacuum port for safe operation, and compact design small enough for bench top operation or in a fume hood if preferred.
You have successfully added from to your part list.
---