Bergquist - Sil Pad 1200
Product Announcement from Quist Electronics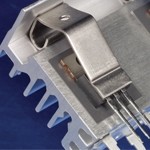 Sil-Pad 1200 is a silicone based, fiberglassreinforced thermal interface material featuring a smooth, highly compliant surface.The material features a non-tacky surface for efficient re-positioning and ease of use, as well as an optional adhesive coating. Sil-Pad 1200 exhibits exceptional thermal performance at low and high application pressures.The material is ideal for placement between electronic power devices and a heatsink for screw and clip mounted applications.
Features and Benefits:
Thermal impedance: 0.53°C-in2/W (@50 psi)
Exceptional thermal performance at lower application pressures
Smooth and non-tacky on both sides for easy re-positioning, ease of use and assembly error reduction
Superior breakdown voltage and surface "wet out" values
Designed for applications where electrical isolation is critical
Excellent cut-thru resistance, designed for screw and clip mounted applications
Typical Applications Include:
Automotive electronics control modules
Power supplies
Motor controls
Audio amplifiers
Discrete devices
Telecommunications
Configurations Available:
Sheet form, slit-to-width roll form
9, 12 and 16 mil thicknesses
Adhesive coating
Die-cut parts
We produce thousands of specials and customs.
Tooling charges vary depending on tolerances and complexity of the part.
---