WAGO 2060 Series SMD PCB Terminal Block
Product Announcement from Quist Electronics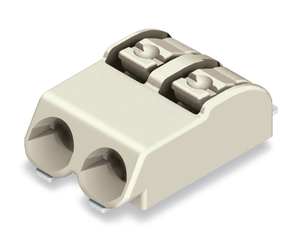 WAGO 2060 Series SMD PCB Terminal Block with Pushbutton
A low profile surface-mount device (SMD) for quickly and easily terminating wires to PCB based LED modules in all types of luminaires & signage. SMD allows its use with metal-core printed circuit boards, which are frequently used in LED applications for heat dissipation.
A cost-effective alternative to hand-soldering leads to PCB.
Series features a WAGO-exclusive pushbutton, which facilitates termination of stranded or flexible conductors, as well as the release of any conductor type. Solid conductors can simply be stripped and pushed in.
Features - Benefits:
Integrated Pushbutton - Accepts stranded conductors-first depress pushbutton to open spring. Release Mechanism for all conductor types. Also allows wiring errors to be easily corrected without costly rework. Helps OEM's meet new Energy Star requirements for component replacement at end of life.
CAGE CLAMP® termination technology - Universal connection technology for all conductor types -fast, reliable wire terminations that are maintenance free - regardless of operator skill. For solid conductors, simply strip and push in.
Accepts 24 -18 AWG (incl solid,stranded, pre-bond, top-coated) - Wider wire range than other offerings.
Low profile - only 4.5mm total height - Reduces shadowing in LED applications.
Contoured edges, light housing color - Reduces shadowing in LED applications.
4mm pad spacing - Layout compatible to Tyco Poke-in - easy to implement in current designs. Side-to-side Stackable without spacing loss
Wiring "balcony" - Provides a 'lead-in' for ease of wiring, even at a slight angle.
Tape & Reel packaging - Easy integration into high speed pick & place process.
Large, flat vacuum pick-up area - Easy integration into high speed pick & place process.
Board-to-board coupler accessory - Connect multiple boards edge-to-edge without wire leads.
---