4-20 ma Transmitter for Harsh Environments
Product Announcement from RDP Electrosense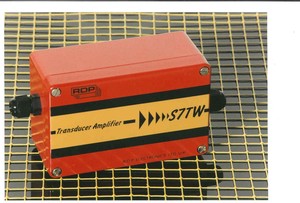 RDP's S7TW transmitter combined with an LVDT displacement transducer provide a 2-wire, 4-20 ma loop powered system to meet the demands of industrial process applications or those involving long cable runs. The S7TW provides excitation to the displacement transducer and then conditions and amplifies the return signal producing a 4-20 ma output connected in a 2-wire loop configuration.
Designed to withstand the conditions of industrial plants, the S7TW is housed in a die-cast aluminum enclosure sealed to IP65 and uses cable glands to protect against the ingress of water or dust. It operates on a 12 to 36 volt DC power supply providing a short-circuit proof output of 4-20 ma accepting a loop resistance of 50 to 1200 ohms and is compatible with a wide range of LVDT transducers from most manufacturers.
The S7TW is easy to set-up. Inside the enclosure are lockable controls for both zero and span settings with a selectable filter for optimum bandwidth and noise performance.
Typical applications for RDP's S7TW and an LVDT system include valve position, roller position or gap thickness in paper and metal industries, damper position, etc.
Click here to view the datasheet
With over 45 years of experience designing and manufacturing transducers and instrumentation, for most applications we can offer a standard model to meet your requirements.
If our S7 package does not meet your sensor signal conditioning application needs, visit our website or go directly to a specific package type:
· Microprocessor Based Models with Digital Displays
· Multi-Channel Systems with Data Logging Capabilities
If not, take advantage of our expertise and call us at 1-800-334-5838 and we will design a custom solution to solve your sensor signal conditioning needs.
As with all RDP products it comes with full instructions and is backed by RDP's highly regarded engineering hotline support service at 800-334-5838.
---