Cost-effective Monitoring of Roller Gap Separation
Product Announcement from RDP Electrosense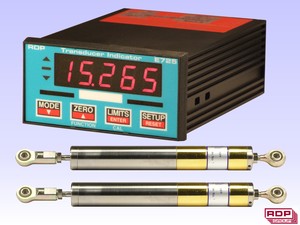 Measuring the gap between rollers, or checking parallelism to close tolerances is an essential requirement in a number of precision manufacturing processes. A measurement task that can be achieved using an RDP Electrosense's E725 digital indicator, in combination, with a pair of LVDT displacement transducers.

Thanks to the E725's capability to accept inputs from two separate transducers, in this case LVDTs of the same type and range, the indicator can be set to display individual readings, the average of both, or to check the difference, to determine how parallel the rollers are. In some situations there can be an analysis requirement to switch between these different sets of readings, which is achievable using the E725's RS232 serial communication interface or front panel push button controls. Alternatively individual E725 amplifiers and LVDTs can measure gaps on either side of the roller and use the device's 4 - 20mA signal as input to a PLC programmed to act in response to the gaps measured.
It is normally unacceptable for rollers to be driven in contact with each other so a spacer is inserted between them for the purpose of zeroing. The E725 can be programmed to take account of the spacer size and return a reading that is corrected for the spacer size.
With over 45 years of experience designing and manufacturing LVDTs and other types of linear position transducers we can usually offer a standard model to meet your application requirements.
Click here to visit our website
If not, take advantage of our expertise and call us at 1-800-334-5838 to discuss your special needs with one of our application engineers and we will design a custom solution to solve your measurement needs.
This transducer uses the Linear Variable Differential Transformer (LVDT) principle which means that it is probably the most robust and reliable position sensor type available. The strength of the LVDT sensor's principle is that there is no electrical contact across the transducer position sensing element which for the user of the sensor means clean data, infinite resolution and a very long life.
---