Displacement Transducers for Process Environments
Product Announcement from RDP Electrosense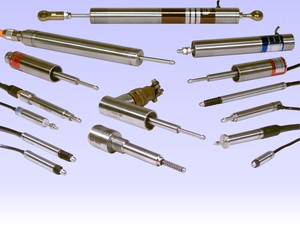 Whether your application involves a routine factory floor environment, the harsh conditions of a chemical processing plant, or an oil and gas application, RDP has a displacement transducer to meet your needs. We have models from .020 to 37 inches with a variety of outputs and mechanical configurations.
With over 45 years of experience designing and manufacturing LVDTs and other types of linear position transducers we can normally offer a standard model to meet your application requirements.
· General Purpose Industrial Models
· Washdown and Sealed/Submersible Models
· Units for Extreme Environments
Depending on your application, we have both AC LVDTs with external signal conditioning and DC to DC units which have internal signal conditioning and are easy to use and set-up with voltage or 2-wire 4-20ma outputs.
If a standard model is not suitable for your application, take advantage of our expertise and call us at 1-800-334-5838 to discuss your special needs with one of our application engineers and we will design a custom solution to solve your measurement needs.
These transducers use the Linear Variable Differential Transformer (LVDT) principle which means that they are one of the most robust and reliable position sensor types available. The strength of the LVDT sensor's principle is that there is no electrical contact across the transducer position sensing element which for the user of the sensor means clean data, infinite resolution and a very long life.
Click here to see how an LVDT works

LVDT transducers require signal conditioning. This signal conditioning can either be internal (built-in) or external. Our standard external LVDT signal conditioning models are described in the 'Electronics' section of our website or go directly to a specific package type:
· Microprocessor Based Models with Digital Displays
---