Displacement Transducers for Triaxial Soil Tester
Product Announcement from RDP Electrosense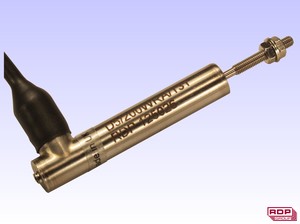 RDP has pioneered the design and development of linear displacement transducers (LVDTs) suitable for use in triaxial soil testers, where ground samples are subject to pressure applied, most commonly by water or oil.

A triaxial shear test is used to measure the mechanical properties of many deformable solids, especially soil, sand, clay, and other granular materials or powders. Design of the displacement transducer calls for a physically small device, preferably with a through bore permitting cleaning when contaminated with debris, and it is of particular importance that the transducer is waterproof.
RDP has designed a wide range of transducers with different armature and cable configurations to optimise their suitability inside a triaxial test chamber. The LVDTs are available as either unguided or spring return versions.
Click here to view the datasheet
With over 40 years of experience designing and manufacturing LVDTs and other types of linear position transducers we may be able to offer a standard model to meet your application requirements.
Click here to visit our website
If not, take adavantage of our expertise and call us at 1-800-334-5838 to discuss your special needs with one of our application engineers and we will design a custom solution to solve your measurement needs.
This transducer uses the Linear Variable Differential Transformer (LVDT) principle which means that it is probably the most robust and reliable position sensor type available. The strength of the LVDT sensor's principle is that there is no electrical contact across the transducer position sensing element which for the user of the sensor means clean data, infinite resolution and a very long life.
Click here to see how it works

LVDT transducers require signal conditioning. This signal conditioning can either be internal (built-in) or external. Our standard external LVDT signal conditioning models are described in the 'Electronics' section of our website.
---