LVDTs help build on firm foundations
Product Announcement from RDP Electrosense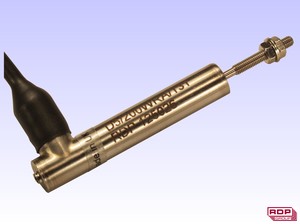 LVDTs are frequently used as an essential active component in soil testing equipment developed to test core samples for civil engineering and building projects.

Determining how soil samples perform under load provides critical data for engineers concerned with calculating building loads for foundations of structures such as dams, bridges, railways and buildings. Cylindrical soil samples are subjected to pressure and LVDTs are used to measure strain to help predict how the ground itself may deform. Various versions of LVDTs have been developed specifically for this application such as a right-angled cable outlet option to reduce length of the device and an unguided armature to minimize disturbance and ensure minimal stress on the mounting legs of the sample. Other cable options include flexible cables to allow tight turns in the pressure vessel. To flush contamination from clay and soil, through-bore waterproof transducers are typically used.
RDP has designed a wide range of transducers with different armature and cable configurations to optimize their suitability for various applications. The LVDTs are available as either unguided or spring return versions.
With over 45 years of experience designing and manufacturing LVDTs and other types of linear position transducers we can normally offer a solution from our vast knowledge base to meet your application requirements.
Click here to view the datasheet
Depending on your application and environment, we have both AC LVDTs with external signal conditioning and DC to DC units which have internal signal conditioning and are easy to use and set-up with voltage or 2-wire 4-20ma outputs.
If a standard model is not suitable for your application, take advantage of our expertise and call us at 1-800-334-5838 to discuss your special needs with one of our application engineers and we will design a custom solution to solve your measurement needs.
These transducers use the Linear Variable Differential Transformer (LVDT) principle which means that they are one of the most robust and reliable position sensor types available. The strength of the LVDT sensor's principle is that there is no electrical contact across the transducer position sensing element which for the user of the sensor means clean data, infinite resolution and a very long life.
Click here to see how an LVDT works

LVDT transducers require signal conditioning. This signal conditioning can either be internal (built-in) or external. Our standard external LVDT signal conditioning models are described in the 'Electronics' section of our website or go directly to a specific package type:
· Microprocessor Based Models with Digital Displays
---