Product Announcement from RDP Electrosense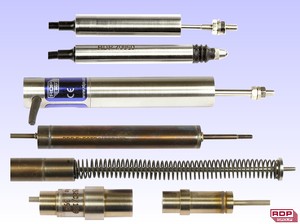 Oscillations in piping that could lead to fatigue fractures and subsequent serious plant problems can be monitored by RDP's LVDTs to check for early indications of excessive movement.

On large sites, such as in the processing and petrochemical industries, or in power stations, the motion of structures can set up oscillations in the pipe work around various parts of the plant. Pipe work oscillations are undesirable because they can cause fatiguing in the pipe work and additional stressing on other components in the plant that can lead to fracturing. These pipes may be carrying hot and dangerous liquids or chemicals. Very often oscillations are as a result of the feed through rate, or the process rate in the plant where a certain loading or flow rate through the plant may create a situation which causes a particular section of pipe work to begin to oscillate. RDP's LVDTs are designed and manufactured, for accuracy and reliability and have been used extensively to monitor movement in pipe work and tubing. LVDT models are available or standard industrial environments and also for harsher locations where the pipes are hot and even for use in situations where pipes are carrying corrosive or radioactive substances.
We have standard models from .020 to 37 inches with a variety of outputs and mechanical configurations.
With over 45 years of experience designing and manufacturing LVDTs and other types of linear position transducers we can normally offer a solution from our vast knowledge base to meet your application requirements.
· General Purpose Industrial Models
· Washdown and Sealed/Submersible Models
· Units for Extreme Environments
Depending on your application and environment, we have both AC LVDTs with external signal conditioning and DC to DC units which have internal signal conditioning and are easy to use and set-up with voltage or 2-wire 4-20ma outputs.
If a standard model is not suitable for your application, take advantage of our expertise and call us at 1-800-334-5838 to discuss your special needs with one of our application engineers and we will design a custom solution to solve your measurement needs.
These transducers use the Linear Variable Differential Transformer (LVDT) principle which means that they are one of the most robust and reliable position sensor types available. The strength of the LVDT sensor's principle is that there is no electrical contact across the transducer position sensing element which for the user of the sensor means clean data, infinite resolution and a very long life.
Click here to see how an LVDT works

LVDT transducers require signal conditioning. This signal conditioning can either be internal (built-in) or external. Our standard external LVDT signal conditioning models are described in the 'Electronics' section of our website or go directly to a specific package type:
· Microprocessor Based Models with Digital Displays
You have successfully added from to your part list.
---