RDP Transducers Monitor Bridges in all Weather
Product Announcement from RDP Electrosense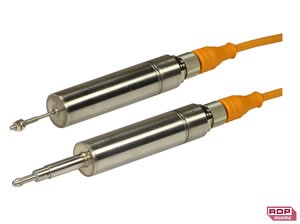 RDP Transducers Monitor Bridges in all Weather
RDP's LVDT Displacement Transducers are frequently used to measure movements in the structure of bridges caused by the weight of traffic, environmental conditions and other factors.

Higher traffic loads and corrosion can lead to increased strain in bridge components, such as suspension cable fixing points. It is important for engineers to understand movements and loads imposed on the structure in order to predict potential problems and to maximise the safe working life of the bridge. Ageing bridge structures may be reaching overload due to the effects of increased weights and traffic volumes on steel structures that may be also weakened by corrosion or suffering early metal fatigue.

Very often the transducers used to monitor movements are installed on structures in coastal regions where the rain water must be considered saline and transducers are also exposed to chemical pollutants created by road vehicles. RDP Electronics Ltd offers many different types of products with a very high water ingress protection rating. Transducers can be supplied that are moisture resistant or fully welded for submersible applications. Thanks to a stainless steel construction these transducers are suited to operation in marine environments and also resist the corrosive effects due to winter road treatments for ice.

The LVDT monitoring approach is relatively inexpensive particularly when several points on a bridge need to be monitored, calling for long cable runs. By using a 4-20mA 2 wire loop, the wiring installation cost can be considerably reduced, as well as this offering the best interface to use with long cables for temperature drift reasons.
RDP has designed a wide range of transducers with different armature and cable configurations to optimize their suitability for various applications. The LVDTs are available as either unguided or spring return versions.
With over 45 years of experience designing and manufacturing LVDTs and other types of linear position transducers we can normally offer a solution from our vast knowledge base to meet your application requirements.
Click here to view the datasheet
Depending on your application and environment, we have both AC LVDTs with external signal conditioning and DC to DC units which have internal signal conditioning and are easy to use and set-up with voltage or 2-wire 4-20ma outputs.
If a standard model is not suitable for your application, take advantage of our expertise and call us at 1-800-334-5838 to discuss your special needs with one of our application engineers and we will design a custom solution to solve your measurement needs.
These transducers use the Linear Variable Differential Transformer (LVDT) principle which means that they are one of the most robust and reliable position sensor types available. The strength of the LVDT sensor's principle is that there is no electrical contact across the transducer position sensing element which for the user of the sensor means clean data, infinite resolution and a very long life.
Click here to see how an LVDT works

LVDT transducers require signal conditioning. This signal conditioning can either be internal (built-in) or external. Our standard external LVDT signal conditioning models are described in the 'Electronics' section of our website or go directly to a specific package type:
· Microprocessor Based Models with Digital Displays
---