Simple Sensor Signal Conditioning
Product Announcement from RDP Electrosense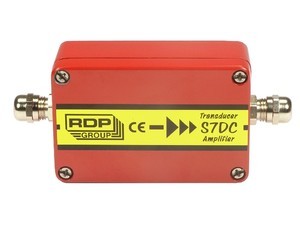 RDP's S7 Series offer low cost, simple signal conditioning for the measurement of position, pressure, load, torque and vibration in harsh industrial environments. All units provide transducer excitation, amplification, zero and scale adjustment, and are housed in rugged, die-cast aluminum enclosures sealed to IP65. Access to the cable connection terminals and controls is facilitated by removing the lid.
· S7DC - DC powered Strain Gauge Transducer Amplifier
· S7TW - DC powered, true loop powered, 2 wire 4-20mA Transducer Amplifier for use with LVDT transducers
· S7AC - DC powered Inductive Transducer Amplifier for use with LVDT and inductive transducers
· S7M - Inductive Transducer Amplifier for use with LVDT, inductive and strain gauge transducers, 115/230 V AC powered
· All models meet CE regulations concerning emc and electrical safety
· All S7 models provide +/- 10V and/or 4-20 mA outputs
With over 45 years of experience designing and manufacturing transducers and instrumentation, for most applications we can offer a standard model to meet your requirements.
If our S7 package does not meet satisfy your application needs visit our website or go directly to a specific package type:
· Microprocessor Based Models with Digital Displays
· Multi-Channel Systems with Data Logging Capabilities
If not, take advantage of our expertise and call us at 1-800-334-5838 and we will design a custom solution to solve your sensor signal conditioning needs.
---