Product Announcement from REM Surface Engineering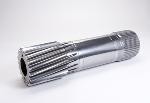 Wind turbine gearboxes are designed to last over twenty years; however many standard gearboxes experience premature failure. These failures are often a result of gear wear and micropitting due to the extreme conditions in which wind turbines are often operated (strong, intermittent wind gusts and the start-and-stop nature of wind in general). Additionally, maintenance not being performed as scheduled, due to the remote, often difficult to access locations where wind turbines are installed further stresses the wind turbine gear box. These factors result in gearboxes accounting for the largest portion of maintenance costs for wind turbines.
Our ISF®­­­ Process brings a new standard of efficiency gains, extended component life and reduced part corrosion to customers in the power generation market. REM­­­ is capable of ISF processing parts weighing over 4000 lbs and has also established a refurbishment program which turns otherwise scrap components into better than new parts. These refurbished parts outperform non-ISF processed new gears. Lastly, REM's ISF Services department can provide a short turnaround time on your power generation components; allowing you to get parts in the field quicker, thereby reducing operating costs.
ISF Wind Turbine Performance Benefits:
Reduce Friction
Improve Corrosion Resistance
Increase Efficiency
Eliminate Micropitting
Eliminate Fretting
Reduce Lubrication Requirements and Cost
Reduce Metal Debris ISF Steam and Gas Turbine Performance Benefits: Gears

Increase Durability
Reduce Lubrication Requirements and Cost
Eliminate Break-in
Reduce Contact and Bending Fatigue
Reduce Warranty Maintenance Costs
Recycle Used Gears by Refurbishment
Airfoils/Blades
Reduce Stress Corrosion Cracking
Reduce Air Resistance
Increase Efficiency
Reduce Amount of Deposits Sticking to Blades
You have successfully added from to your part list.
---