Fiber Optic Trunk Solutions for Data Centers, SANs
Product Announcement from RF Industries, Inc.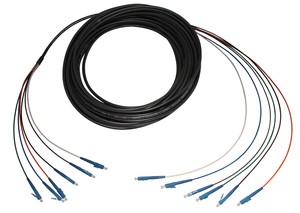 Fiber Optic Trunk Cables: High Performance, High Density Solutions for Data Centers and SANs
Cables Unlimited is a cable supplier and network cable installer, offering optical fiber trunk cables for 10 Gigabit Ethernet, Gigabit Ethernet, Fast Ethernet, Fiber Channel, FDDI, ATM, Token Ring and other data and voice communications. Our knowledge and experience in designing and implementing fiber optic systems for data centers and SANs (storage area networks), is an invaluable asset to our customers. We work in partnership with leading fiber cable manufacturers and we offer U.S. based and offshore fiber optic cable manufacturing services. Our cutting edge technology allows us to offer both standard and custom fiber cable products at very competitive prices.
We are known in the industry for our exceptionally fast response with quotations and turnaround. Same Day Shipping is available on many of our products. All assemblies are US manufactured—pre-terminated by Corning Gold certified technicians—in the Cables Unlimited's New York production facility using Corning fiber components and domestic cables, fillers, shielding and jackets.
For a quote, contact Craig Catalano at (631) 563-6363, (800) 590-9965, ccatalano@cables-unlimited.com or visit www.cables-unlimited.com
Cables Unlimited, a division of RF Industries (NASDAQ RFIL), is a longstanding supplier of cables and wire harnesses and manufactures highly flexible custom hybrid tower cables and custom optical fiber trunk cable assemblies.
---