High Brightness Mobile Monitor, Daylight Viewable
Product Announcement from RF Industries, Inc.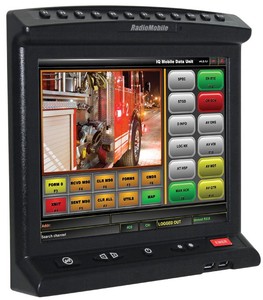 RadioMobile offers the RMHB 12.1" S, a high brightness daylight viewable industry standard display terminal to suit in-vehicle computing needs. Industries with mobile computing needs such as public safety (police, fire and emergency medical), transportation, utilities and ready-mix industries typically operate their vehicles in daylight hours. The low brightness of a typical display terminal can be a problem. RadioMobile developed the RMHB 12.1" S specifically for this need. Brightness levels are adjustable for night time viewing as well.
The following are some features of the RMHB 12.1" S.
12.1" High
Brightness Touch screen (1500 NIT less filters)
LED Backlit
10 Programmable Function Buttons
3 Standard USB Ports
Low Current (max brightness 1.8A at 13.7V DC)
Lightweight
AV Kill Switch· Emergency Button
Operational Range: 6.8V - 28V
RadioMobile, a division of RF Industries, is a long-standing provider of turnkey CAD, Mobile and GIS solutions for government, private and enterprise fleets incorporating the latest in technology. RadioMobile also provides efficient conventional and broadband networking software and state of the art computing hardware. Known for its customer service, long-standing reputation and rich domain expertise, RadioMobile is a one of a kind organization for all your software, hardware and networking needs. RadioMobile is a provider of affordable end-to-end mobile wireless network solutions for public safety, emergency medical, and transportation customers.
RadioMobile is a division of RF Industries (NASDAQ RFIL), a leading supplier of telecommunications and medical cable products through its company divisions. For additional information call 800-233-1728 or 858-549-6340. You can also email: saik@radiomobile.com or visit our web site at www.radiomobile.com
---