Low-cost, battery-powered FHSS networking solution
Product Announcement from RFM (RF Monolithics, Inc.)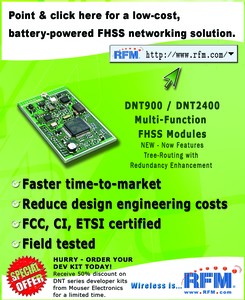 Imagine RF power up to 1 Watt*, advanced networking features and support for multiple software-selectable RF data rates and RF power. All from a single module that supports star, peer-to-peer and tree routing network topologies.
Available in 900MHz and 2.4GHz versions, DNT modules also allow an unlimited number of radios in a single network and support AES-128 encryption of data for unsurpassed security.
And with 6 GPIO lines, 3 ADC in-puts plus 2 PWM outputs, wireless sensor networking is a breeze.
HURRY - SPECIAL OFFER FROM MOUSER! ORDER YOUR DEV KIT TODAY. Receive 50% off of the DNT900DK or DNT2400DK developer kit from Mouser Electronics. Offer expires 10/31/2010.
*1 W power limited to 900MHz,
2.4GHz modules limited to 100 mW.
---