$120,000 Saved with RIDGID Locator
Product Announcement from RIDGID®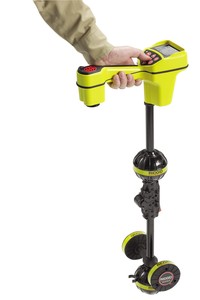 The RIDGID® SeekTech® SR-20 Utility Locator Helped Contractor Saves His Customer $120,000 In Unnecessary Digging.
Keith Williams, who has been in the locating business for over 35 years,is the owner of California Utility Surveys (CUS), which specializes in utility locating.
"Our goal is to mark all utilities on the site surface in the most accurate position possible, so our clients don't waste time and money," he said. As part of a public transportation upgrade in San Francisco, Williams used RIDGID® SeekTech® SR-20 locators to find buried utility lines. CUS located the underground utilities on-site so that another contractor could use vacuum excavation for visual verification of the lines. The holes provided are only 6 to 8 inches in diameter. Accuracy in this type of locate is important as it minimizes the number of holes needed to find each utility.The SR-20 locator uses a combination of multi-directional antennas, a revolutionary mapping display, and state of-the-art processing to provide users with more information to easily and effectively locate underground utilities.
Users also have the option of using the receiver's advanced passive modes to search for other metallic lines that might be present. Williams first saw the RIDGID SeekTech locators at an industry trade show and ended up purchasing two of them. He initially used the SR-20s to re-locate the utility lines to determine if the new readings were in conflict with those of his old locator.
"With underground utility locating, you not only need to understand advanced locating technology, but you also have to have a level of comfort with your locating skills," Williams said. "The SR-20 satisfies both."Williams' decision to use the SR-20 to verify the lines helped prevent unnecessary work. CUS nearly eliminated the digging of "dry holes"-potholes that contain no utility lines because of poor locating. With the SR-20, CUS also found new lines that both the old locator and the transportation system designers did not know existed.
Williams attributes his results to the SR-20's easy-to-use features."Using those features gave us more confidence that the lines were actually there and that they were at the right depth," he explained."Our customers pay us to find utilities," said Williams.
"Our goal is to mark all utilities on the site surface in the most accurate position possible, so our clients do not waste time and money." CUS determined that more than 50 percent of the estimated holes were not required. This saved the transportation system about $120,000, as well as its design consultants' time."I'm in the business to create a safe working and living environment for my client," summed up Williams.
"The SR-20 helps me achieve that. I was impressed by the locator's many useful, advanced features, yet it was easy to use. I think the SR-20 is the top-of-the-line and up-to-date. I've tested many other locators over the course of my career and nothing compares to the SR-20."
Demo a product today!
You have successfully added from to your part list.
---