Find Cross Bores- RIDGID® CrossChek™ System
Product Announcement from RIDGID®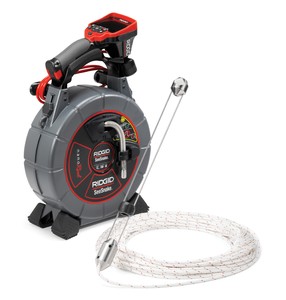 What are you missing in your pneumatic boring process?
The RIDGID® CrossChek™ Inspection System The RIDGID CrossChek allows you to visually inspect where you've bored before you install the new utility, helping you prevent costly accidents related to cross bores.
· Designed for bore slots 1.75" to 3" wide
· Easily integrated into your current boring process
· Keep digital video documentation of each inspection
· Works in most soil types, including wet clay and dry sand
HOW IT WORKS
Easy to Use.
The RIDGID® CrossChekTM Inspection System can be seamlessly integrated into your pneumatic boring process and requires little training.
1. Cut the bore using a pneumatic mole.
2. Remove the pneumatic mole and connect the RIDGID CrossChek to the air hose. Pull the air hose back through the bore slot to visually inspect and document the bore.
3. Connect the new gas line to the RIDGID CrossChek. Install the line by pulling the RIDGID CrossChek through the bore slot using the pull rope.
What Are Cross Bores?
Pneumatic boring is a blind process. But it doesn't have to be.
· Pneumatic boring offers a variety of advantages. It's a cost-effective, minimally disruptive method for installing utility lines. It also saves time and makes financial sense.
· However, locating utilities while standing above ground provides a limited picture. Pneumatic boring remains a blind process, resulting in dangerous cross bores.
· Cross bores could lead to property damage, disrupted communication, or even human injury.
To learn more about cross bores, Visit the CROSS BORE SAFETY ASSOCIATION at crossboresafety.org
You have successfully added from to your part list.

Play Find Cross Bores- RIDGID® CrossChek™ System Video
---