RIDGID® SeeSnake® MAX rM200 Camera System
Product Announcement from RIDGID®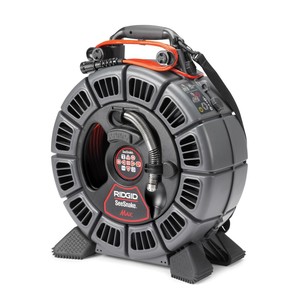 The rM200 Camera System combines portability and versatility to make your drain inspections easy and efficient. The rM200 features a newly designed push cable for greater abrasion resistance and more efficient pushability.
Interchangeability
The D2 drum series currently consists of the D2A and D2B drums.
The rM200 comes with your choice of drum.
Either drum can be purchased separately.
Own them both to quickly and easily interchange drums for on-the-job flexibility.
Pushability
Drums feature different push cable lengths, diameters, stiffness and springs.
Chose the drum that enables you to easily negotiate turns and tees – there's a drum that's right for you!
Portability
Easy to transport with wheels or carry handle.
Dock the CS6 or CS65 digital monitor for convenient transport, operation and storage.
Camera Head: 200' (60 m)
Camera Diameter: 1" (25 mm)
Camera Length: 1.25" (3.2 cm)
Line Capacity: 1.5" - 6" (38 mm -150 mm)
Length: 20.8" (53 cm)
Width: 13.8" (35 cm)
Height: 24" (61 cm)
Weight: 34 lbs (15.4 kg)
Resolution: 656 x 492 pixels
---