Ambient Light Sensor ICs for LCD Backlighting
Product Announcement from ROHM Semiconductor USA, LLC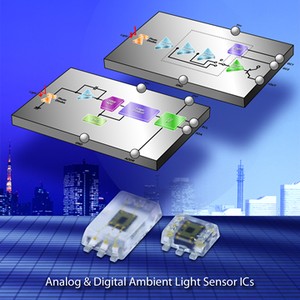 SAN DIEGO, Calif. - March 31, 2009 - ROHM Semiconductor today announces a new family of analog and digital Ambient Light Sensor (ALS) ICs for the efficient control of LED backlighting for LCD-equipped devices. Featuring ROHM's proprietary trimming process and use of multiple photodiodes with different junction depths, the ALS ICs provide an accurate output with little variation between various light sources. The spectral response of ROHM ALS ICs has been tailored to closely match that of the human eye for accurate light measurement. These features combine to provide uniform visibility for LCDs over a wide range of ambient light levels and sources - from incandescent or fluorescent light to full sunlight.
Key advantages of the ROHM ALS Series include:
Higher light-sensing accuracy (±15% compared to competitive devices that range from ±30% to ±55%)
More stable ambient light detection (±10% maximum difference regardless of light source, compared to competitive products with up to 4:1 variations)
Wide operating temperature range (-40°C to 85°C)
Wide light detection range (up to 100,000 lux)
Small, surface-mount packaging
RoHS-compliant and halogen-free package
The ROHM ALS IC family includes the BH16xx (analog) / BH17xx (digital) series. BH16xx analog series devices provide a linear current output proportional to luminous intensity ranging from 0 to 100,000 lux. These units feature ROHM's unique three-level gain selection providing exceptional design flexibility in matching power consumption to the specific application requirements.
The BH17xx series of digital devices integrate a 16-bit analog-to-digital converter that produces 1 lx resolution over a range of 0 to 65,000 lx. The devices' I2C output is designed for direct connection to a microcontroller or baseband processor. Two measurement resolution levels are provided allowing design trade-offs between sampling time and performance. For example, with high-resolution sampling, optical noise such as fluorescent lamp flicker can be filtered out. Low resolution provides a shorter sampling time for applications such as GPS systems where the light level changes are dynamic.
Steve Chutka, Field Applications Engineer at ROHM, said: "Adjusting the LED backlight intensity to compensate for varying light levels can save 50% or more of the total power required to operate many LCD-equipped devices. The ROHM family of analog and digital ALS ICs offers an exceptional range of performance capabilities for the full gamut of LED backlighting applications."
ROHM's analog and digital ALS ICs are available in either the ultra-small WSOF5 surface-mount package (1.6x1.6x0.55 mm) or the slightly larger WSOF6 surface-mount package (3.0x1.6x0.7 mm).
You have successfully added from to your part list.
---