Product Announcement from ROHM Semiconductor, USA LLC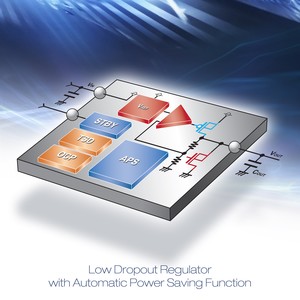 ROHM Semiconductor has introduced a new series of CMOS LDO regulators featuring ROHM's proprietary automatic power-saving (APS) function that dynamically switches performance characteristics based on operating conditions. The BHxxPB1 Series combines the benefits of LDOs - small packaging, minimal external components and simple design process - with very low average power consumption. During high-speed operation, with operating current of 20 µA, the output voltage is regulated to ±1% over step load changes. In the power-save mode, the operating current is reduced to 2 µA. These devices are particularly useful in portable applications such as cell phones where lower average current consumption can aid in extending battery life.
The PB1 series is offered in nine models with fixed output voltages ranging from 1.2 V to 3.3 V. Models in the series feature a built-in shutdown function, 8 kV ESD protection, and foldback over-current and thermal protection.
Key advantages of the ROHM BHxxPB1 Series include:
-A low-voltage reference source to enable stable operation from 1.7 V inputs.
-Integrated output discharge function that eliminates external blocking diodes required to prevent reverse-voltage damage.
-Integrated inrush current protection to assure output stability without need for added external components.
-HVSOF5 package requiring 70% less mounting area than standard SOT23-5.
"CMOS LDOs provide a solution that satisfies the need for a low power, space-conscious design," said Zachary Whitman-Allen, Field Applications Engineer at ROHM. "The new BHxxPB1 Series' Automatic Power Saving function further enhances their attractiveness. Combined with ROHM's output discharge function and other features, the PB1 series is well-suited to mobile design applications."
The BHxxPB1 Series is the latest in the growing family of CMOS LDOs from ROHM. The ROHM lineup includes single-output and triple-output devices optimized for: fast load response; high ripple rejection; high current output; and high ESD withstand - all in industry-leading ultra-small packages.
You have successfully added from to your part list.
---